Beating Diabetes the Low-Carb way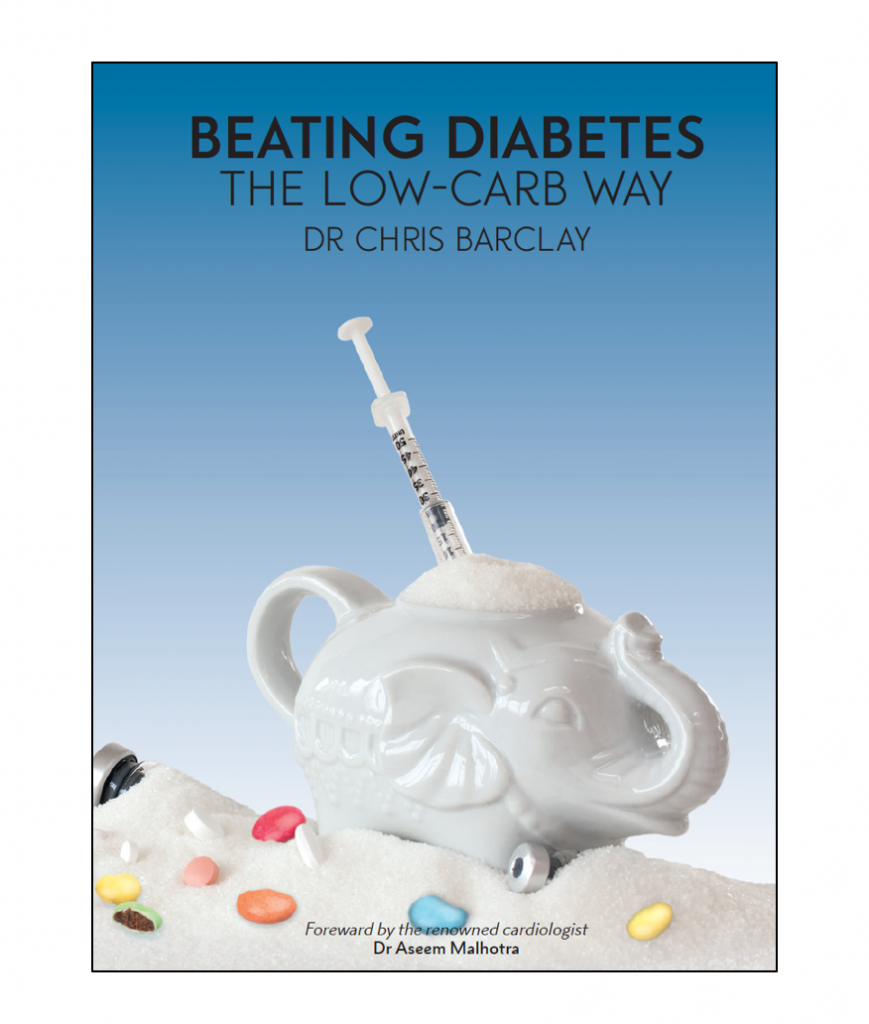 Beating Diabetes the Low-Carb way: An overview
To buy the book click here.
Type 2 Diabetes and obesity are now the most common long-term medical conditions in the Western world. The pandemic began in the 1980s when the low-cal/low-fat theory became official dogma. The sudden intrusion of dietary sugars and starchy foods, in increasing amounts, that followed caused obesity and Type-2 Diabetes to explode into our societies. "Diabesity" is a dietary disorder and its cure is dietary.
Beating Diabetes is written in an understandable and engaging style. It amuses and entertains as it educates and empowers. Its revolutionary and innovated approach is the remedy for modern medicine's culpability. While never underestimate the readers intelligence, it never underestimates their lack of knowledge either.
The reader will…
understand how Official advice is both a cause and a significant impediment to its cure
discover the foods and ingredients to be enjoyed and avoided
be guided through lifestyle modification; shop, cook, dine
explore the roles of Fasting, Exercise and importantly Failure
The book finishes with a low-carb The Ten Commandment
A glossary and several appendices are also included. These cover oils and fats, fruit and other foods, alcohol and diabetes medicines.
Who needs this book?
In the last 20 years the number of people in the UK with Type-2 Diabetes has risen from 1.4 to almost 5 million. Is there a cure? Most medics think not. They are wrong. This book of for those caught up in the Diabesity* epidemic, their families and loved ones, and their health professionals too.
What need does it address?
The core problem in Diabetes is not sugar but insulin. Standard medical treatment targets the wrong thing and so has almost no chance of curing it. Instead it medically manages a slow defeat. The need addressed is quite simply the provision of life changing information, currently denied to many millions of people with diabetes or obesity worldwide. The message of this book, it's heresy if you like, is not unique but the way the author presents it is. This book is a breakthrough work of translation, translating pearls of wisdom into a programme a person with diabesity can implement themselves.
Why me?
I qualified in medicine over forty years ago; for thirty I have been a GP and a medical writer. I was Principal Investigator for the ISAIAH** Study. For the last twenty years the role of diet in health, and particularly Diabesity, has been my fascination.
Why now?
Can anything be done? Should we just leave it to our doctors to manage our inevitable decline? No! All this happened on their watch. They failed, they are part of the problem. Instead, I say 'cut the carbs'. You could reverse your diabesity. Beating Diabetes explains how and why this happened and vitally, for those with it, how to go about trying to reverse the problem.
To buy the book click here
Reviews:
Fantastic book – if only more doctors were as enlightened. Potted history of how we got ourselves into this obesity and type 2 diabetes pickle, and instructions on how we can eat our way out of it. Buy this book and see the light!
This is a great down to earth summary of how we got where we are, what's keeping us there and how to escape to a healthier lifestyle! It's written in a humorous style and very practical but with good scientific information…Thoroughly recommend.
Thank you Dr Barclay, for an easy to read and informative book which should be made available to patients in all surgeries and diabetic clinics.
I loved Dr Barclay's no-nonsense book and its conversational approach. It explains why so many of us have type 2 diabetes and overweight, enough science to make the low carb approach make sense plus practical tips to make it work. Lots of good recipes and realistic, real life experiences. Have recommended it several times already because it does what it says on the tin.
* Diabesity. A word combining diabetes and obesity. Coined by Dr Robert Atkins
** ISAIAH – Insulin Sensitivity And Its Applications to Health. To read 'Can type-2 diabetes be prevented in UK general practice? A lifestyle-change feasibility study (ISAIAH)' click here.